This is a delicious and typical dish for autumn. This dish with pork sausages goes back to Roman times! The dish is traditionally served with lashings of onion gravy and green peas on the side. It is very easy to prepare and it is easy to scale up to provide visiting friends with a delicious meal.
Preperation: 15 minutes + 30 to 45 minutes oven
Quantity: 4-6 persons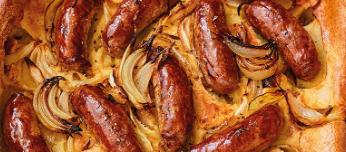 Ingredients:
100 g plain flour
2 eggs
8 pork sausages
200 ml milk
50 ml water
1/2 teaspoon salt
1 large onion
3 tablespoons olive oil
Preperation:
You need a large baking dish that will take all the sausages and the pudding mix in one and have space to allow it to rise as it bakes.
Before you start any cooking get your oven very hot (Preferably 230°C) and chop the onion in to small pieces.
Start of by making the pudding mixture first, so it has time to rest while you're cooking the sausages. Mix the flour, salt and eggs together, then gradually beat in the milk until the batter is smooth and creamy. Then set it aside to stand.
In a heavy frying pan heat a couple of tablespoons of oil. When hot add the sausages and brown them quickly all over. Turn the heat down a little, add the chopped onion and cook until the onions are slightly browned.
While the onion is still cooking, add a little oil to your baking dish and place in the hot oven.
When the oil is sizzling hot (essential for the pudding to rise and crisp) remove the baking dish from the oven. Add the sausages with the onions and pour in the batter, before replacing the baking dish in the oven.
Bake the Toad until well risen and golden, (approximately 30 to 45 minutes)
Enjoy your meal!
The book below is highly recommended for more British recipes.
Instructional video of this recipe on youtube: